Discover more from Line of Actual Control
Off beat, off kilter, and otherwise interesting stories found in public data.
Over 1,000 subscribers
Kashmir's Drone Wars
An overview
In at least 16 instances since 2015, Pakistan has shot down Indian quadcopter drones operating near the Line of Control - the de facto border between the Pakistan-controlled region of Azad Kashmir and the India-controlled union territory of Jammu and Kashmir. These downings, rarely covered in media outside South Asia, are dangerous flashpoints in a restive area disputed by two nuclear-armed adversaries.
India has shot down at least one Pakistani drone as well, but the clear majority of drones downed in the region have been shot down by Pakistan.
India exclusively uses quadcopter drones built by DJI, a Chinese company based in Shenzhen. I identified three different classes of DJI drones fielded by the Indian military in Kashmir. The Indian military's exclusive use of a range of DJI drones in the region also raises questions about the degree to which DJI acknowledges that the Indian military flies their drones for offensive purposes.
The DJI Phantom appeared most often, understandable, as it's one of the world's most ubiquitous quadcopters. Of the 16 downings along the Line of Control since 2015, six were of DJI Phantom series drones. This model has a maximum range of only a few kilometers but, extremely cheap and equipped with a single gimbel camera, is suited for short range reconnaissance of the small outposts that dot the Line of Control.
An Indian DJI Phantom drone shot down by Pakistan
Next is the DJI Mavic Pro series. Pakistani forces shot down two DJI Mavic Pro Platinums and a single DJI Mavic Pro in Kashmir. These drones have a slightly longer range, up to seven kilometers, and can fly faster, climb higher, and operate in more rugged conditions than DJI Phantoms. With their longer range, these drones can cross Kashmir's mountain peaks and valleys to surveil Pakistani forces on far-away ridgelines.
An Indian DJI Mavic Pro Platinum shot down by Pakistan
Finally, Pakistani forces also shot down three DJI Mavic 2 series drones: one Mavic 2 Zoom and two Mavic 2 Enterprise Duals. The Mavic 2 Enterprise Dual models are the most technologically advanced Indian drones shot down by Pakistan in the region. They boast not only a ten kilometer range but also powerful thermal cameras that allow Indian forces to detect body heat from Pakistani troops and heat signatures left by artillery. They retail for between $2,699 and $3,350.
An Indian Mavic 2 Enterprise Dual shot down by Pakistan
There were also four drone downings without images: three that the Pakistani military released statements on but did not accompany with pictures or video, and one reported in the news, also without pictures or video. Unfortunately, I wasn't able to tell which model of drones those four were.
The locations of the Indian drones shot down by Pakistan follow an interesting geographic distribution. They span over 120 miles, from the southernmost river valley to the northernmost mountains along the Line of Control. Despite the official ranges of the DJI drones, most were shot down within a few hundred meters of the Line of Control.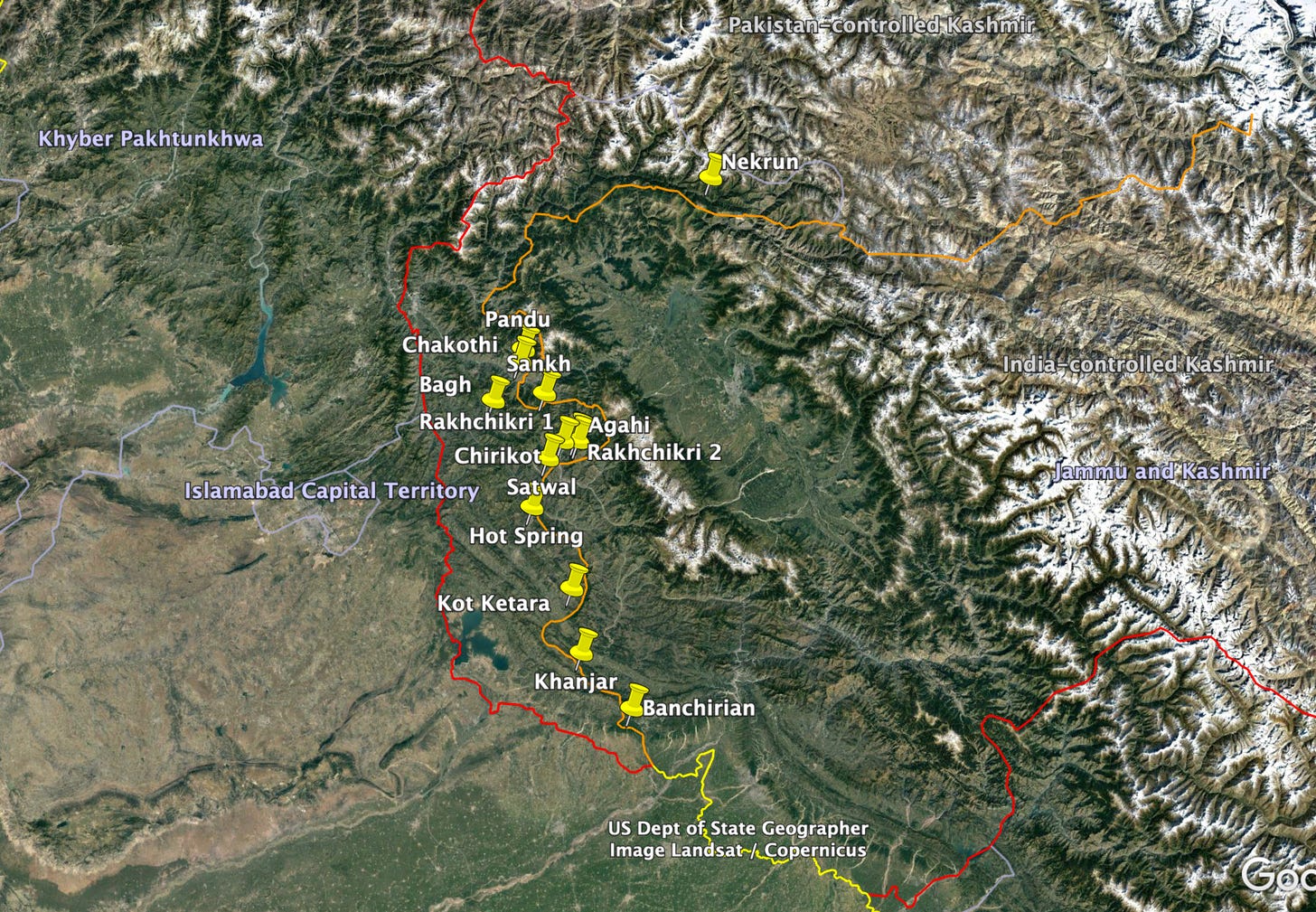 Each yellow push pin is where an Indian drone was shot down by Pakistan.
One cluster is worthy of further examination: just north of the Poonch River Valley, Pakistan shot down at least seven Indian drones over the past few years, including four in virtually the same location.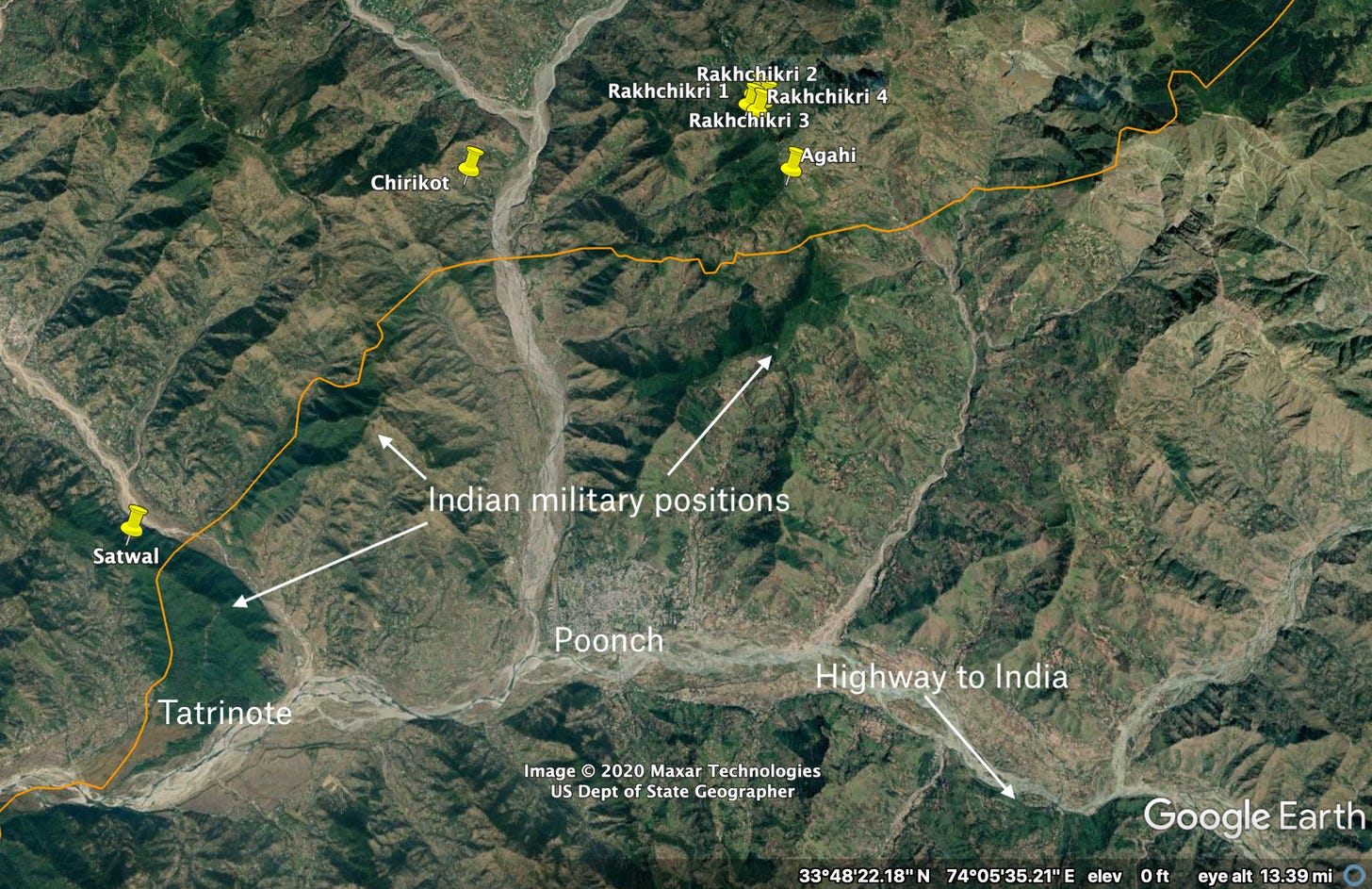 Again, the yellow push pins show locations of Indian drones downed on the Pakistani side of the Line of Control
The mountaintops and dense forests in the area provide Indian troops with ideal positions from which to launch drones to observe Pakistani forces. The Indian outposts, hidden in the trees, protect Poonch, an important district capital, Tatrinote, one of the only border crossings between the India- and Pakistan-controlled sides of Kashmir, and National Highway 144A, a strategic road that leads into southern Kashmir and ultimately into the Indian heartland.
Given this area's vital importance to India's control of Kashmir (not to mention its location on a salient deep inside Pakistan-controlled Azad Kashmir), it's no surprise that India regularly flies drones there to keep an eye on the Pakistani side of the border (and that Pakistan tries to stop them from doing so).
In addition to their geographic pattern, the quadcopter downings also follow an interesting temporal pattern. Specifically, India's use of drones to monitor the Line of Control and Pakistan's resulting shootdowns, have exploded in recent years.
Pakistani forces shot down one drone each in 2015, 2016, 2017, and 2018. However, they shot down five in 2019 and an astounding seven (so far!) in 2020. And these are just the drones that official Pakistani military sources have posted about. The Pakistani military's public relations wing, the DG ISPR, has alluded to up to eleven drones being downed thus far in 2020 alone:
In sum, India uses three classes of DJI quadcopters to reconnoiter Pakistani posts along the Line of Control in Kashmir: DJI Phantoms, DJI Mavic Pros, and DJI Mavic 2s. They particularly use these drones in strategically important areas like the Poonch salient. Pakistan often shoots down India's DJI quadcopters and has been doing so at a faster clip recently.
The increasing pace of drone downings is concerning because each shootdown, though a relatively small incident on its own, is a potential spark to the Kashmir tinderbox. In the past, small incidents like drone downings or sniper fire have led to more intense barrages of mortar and rocket fire. In turn, these artillery duels have spiraled out of control, killing dozens of soldiers and civilians in regular flare-ups over the years. 
In my next post, I plan to give a detailed open-source examination of one of these drones' missions in order to illustrate exactly how they're used and how they contribute to destabilization across the Kashmir Line of Control.